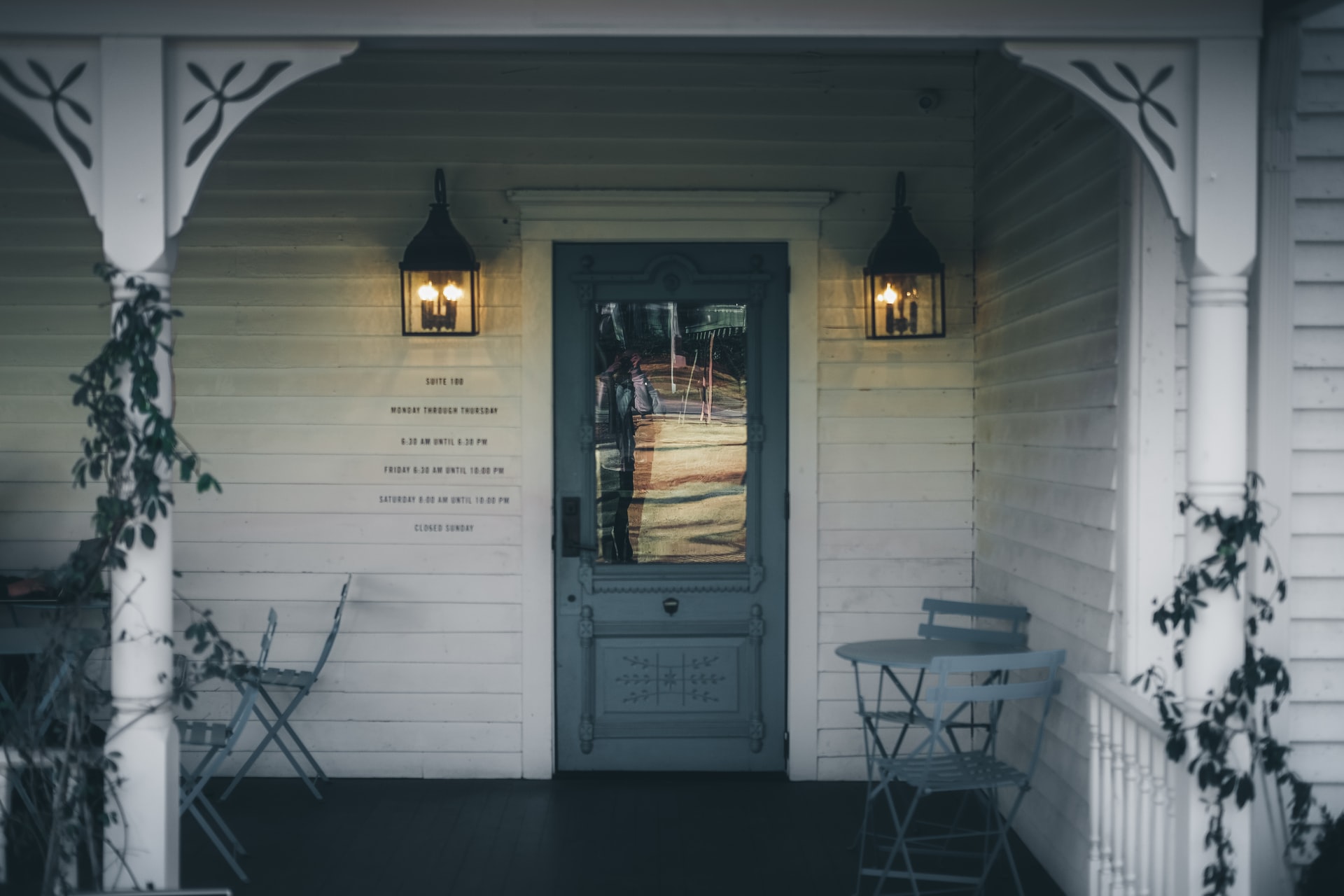 How to decorate a front porch
If your front porch tends to end up as a bit of a dumping ground for shoes, coats and umbrellas, you're not alone! This extra entrance space can be handy for storage, but it also has tons of potential. With a bit of know-how and a dash of TLC, you can transform it into a very attractive feature.
Your front door is the first thing visitors see as they approach your home, and a well-presented porch can do wonders for your kerb appeal. So, whether you're looking to sell or just want to make the most of your home's charming entryway, here are some ideas on how to decorate your front porch. 
Front porch seating
If you have a large porch, it can make a lovely seating area for relaxing and watching the world go by. A metal or wooden bench is an excellent seating choice for drinking your morning coffee, reading a book or taking your work-from-home lunch break. 
Fancy something cosier? As your porch will provide shelter, you might like to get a comfy outdoor sofa with cushions, blankets and throws. Textiles are a lovely way to make your porch more inviting, too. 
If you prefer a more formal setup, a stylish bistro table and chair set could be perfect for an evening glass of wine and some nibbles.
And how about if your porch is a bit more limited on space? Well, finding a suitable layout for your seating can be just as important as the furniture itself. You might find it best to place your chairs outside the porch, so it doesn't block the door.  
Plants and flowers
Plants and flowers can brighten up any room or garden area — and your porch is no different. 
From hanging baskets to planters brimming with blooms, porch plants allow you to unleash your creativity. Whether you choose seasonal flowers to flourish in the spring or prefer evergreen options to thrive all year round is down to your personal preference and desired aesthetic (and how much you're willing to tend to them!). 
Potted plants
So what will you grow your plants in? Stone and terracotta pots are handy for urban areas. A mixture of sizes and colours can create a rustic mismatched feel. Or, for an elegant statement, why not go for a bay tree on either side of the front door? Embracing symmetry can add a classy touch.
And if your porch is more compact, it's a good idea to scale your foliage. Rather than going for big shrubs that can overwhelm it, try looking for miniature varieties that won't seem out of place.
Hanging baskets
Another option is to build fabulous hanging baskets. Fuschias, geraniums and nasturtiums can all add a vibrant pop of colour, but you could always create a more verdant basket using evergreen plants if you prefer. Hanging them at the front of the porch or right next to your door can draw the eye nicely. 
Climbing plants
Climbing plants, like wisteria, are a simple yet effective way to add detail to your porch without taking up too much space. By setting up a network of wires on the walls and lintel, you can encourage the plants to form a beautiful natural frame around your porch.
The front door
Your front door is the centrepiece of your porch. It's all well and good having immaculate shrubbery or delicate flower arrangements. But if your door is shabby, it can undermine the whole effect. Not to mention, if your door is a little worse for wear, it may reduce your home's security levels.
So what kind of front door should you go for? You might like to consider the style, material, and colour. Do you want to get a front door that matches your property style, or would you prefer something that contrasts?
In terms of material, you can choose from wooden, composite, or PVCu doors. Timber doors provide a lovely traditional aesthetic. However, they tend to require a lot of upkeep. Composite doors, on the other hand, give you the look of a wooden door but are durable and need less regular maintenance. 
PVCu doors come in a vast range of designs and are a cost-effective choice. They can be an excellent option if you're looking for a front door with a bright colour finish or decorative glass panel.
Fortunately, at Otter Windows, we have a wide range of exterior doors to suit every property and porch type. Feel free to browse our brochure to find the perfect door for you.
Door accessories
As well as adding detail to your front door with eye-catching decorative glass, why not consider some accessories to add the finishing touches to your front porch decoration?
Adding your house number or name is an excellent way to personalise your property and help visitors find it easily! Whether you go for a classic brass number set or commission a bespoke nameplate, you can find something to suit your individual style. 
Similarly, a knocker can transform the look of your front door. Perhaps you'd like something minimal and classic, such as a simple ring shape, or maybe you'd prefer something more intricate or quirky.
Lighting options
Lighting not only adds ambience to your front porch but can also be a practical way to illuminate your way home on a dark winter's night. No more scrabbling around to get the key in the front door lock! Well-placed lighting can also highlight any unique architectural features.
You could choose a traditional lantern to hang from the porch ceiling or frame the front door for a nice glow. Alternatively, solar lights are a handy and long-lasting option. You could place them in your planters or along the path leading to your porch.
For a whimsical look, you could even frame your porch with fairy lights — just make sure they're suitable for outdoor use!
Your perfect porch
Decorating your porch is a great way to put your own stamp on your property and boost its kerb appeal. Whether you're updating your current structure or would like to build a porch, the friendly Otter team is here to help. 
From bespoke porch installation to front door repairs, we have everything you need to make a statement with your porch. Why not get in touch for a quote or visit our Honiton showroom for inspiration?