Windows
Devon, Honiton and the surrounding areas
Contact us for advice and a free no-obligation quote. Our team is ready and waiting to help.
Buy now, pay later
Interest free finance
Google 4.9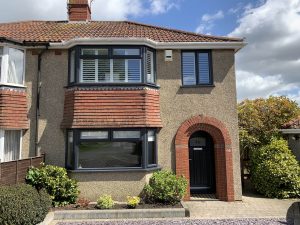 Double Glazed Windows
When it comes to improving your home, you don't need to compromise. Whatever your choice of window style, quality is our obsession and you can expect your new double or triple glazing to be A+ rated for superior performance. Elegant, incredibly insulating and easy to maintain, our innovative windows are a stylish and cost-effective choice. 
The days of 80s PVCu glazing are long gone. Our modern windows are available in a wide range of colours or wood finishes to upgrade your exteriors, as well as classic white. If you prefer a more contemporary slimline profile then our aluminium windows are an enduring choice for the modern home.
Our windows are manufactured in our state of the art facility and can be manufactured to your exact specifications to perfectly complement your home.
Our window ranges
Choose from classic casement and sash windows, high performance tilt and turn windows designed to open vertically and horizontally and elegant French windows. Opt to increase space with bay and bow windows and create a light and airy interior that will add value to your home.
Choosing to upgrade your windows is an investment in quality. As one of the most important elements of any home we're here to make sure you make an informed choice. We always take the time to visit you at home and talk through your choices so you're completely comfortable with your new glazing.
Browse the website or download a brochure to find out what's on offer, then contact us to make an appointment to discuss your new windows.
Common questions
What type of window frame is best?
If you're the owner of an older property then timber frames are the traditional choice. However, these can be high maintenance and prone to warping and flaking at extreme temperatures. Modern UPVC glazing is a high performance and affordable option that can mimic traditional timber for a classic look. 
Modern home owners may prefer to invest in durable aluminium windows with a desirable contemporary profile. The choice will depend on variables like your house style and budget, and it can be tricky getting the style right. Talk to one of our window experts for more insight.
Can I expect energy savings from my new windows?
With A+ rated glass and high performance UPVC frames you'll definitely notice a difference in your energy bills when you upgrade from single to double glazing. You could also make energy savings when you upgrade from double to triple glazing and you'll notice a big difference in the build up of condensation on your windows. 
If you're replacing old double glazing units, the chances are that the seals will be worn and inefficient so they're not performing as well as they should. Replacing old units will definitely generate savings on your energy bills and help to reduce the carbon footprint of your home.
Can I match my window design to my home?
Of course you can, and with windows in a huge range of styles, colours and finishes it's easier than you think. Your windows are one of the first things that visitors and potential buyers see so it makes sense to create a great first impression with your new windows. 
Whether you're looking for traditional timber finishes and heritage colours for an older property or you want to make a statement beyond classic white, you'll be amazed at the range of window styles on offer. If you're finding it hard to make a choice, contact one of our experts and they'll help you get the perfect match.
Should I get double or triple glazing?
It's important to remember that not all glazing is created equal. However, our double glazing is designed to optimise the performance of your windows and we've found that a 28mm unit with a 20mm gap is the ideal specification for windows that are energy efficient and effective at reducing noise.
If you live in an exposed property or in a colder climate, or you're on a busy road, you'll benefit from triple glazing. These units have three panes of glass with two insulating gaps and are highly effective at keeping your home warm and cosy and cancelling outside noise.
Will my windows have a warranty?
We're obsessive about the quality of our products which means that our customers benefit from the best windows installed to the highest standards. Each window is backed by a 10-year written guarantee though the majority of our products will last much longer with simple maintenance.
Our qualified installers will explain to you exactly how to keep your windows looking their best depending on the area you live in and the style of window. Customer satisfaction is of paramount importance to us so don't hesitate to ask if you have any questions about our products.
Do I really need to replace my windows
You should check your windows periodically to look for signs that they may need replacing. If you see condensation inside the panes of glass or a visible degradation of the window frame, then the seal is no longer working properly. Other signs include windows that are hard to open and close and window panes that are cold to the touch.
Replacing your windows is an investment in energy efficiency and adds value to your home but it can be a major undertaking. However, old and inefficient windows are already costing you money in terms of higher heating bills.
0% APR representative on orders over £3,000
We have various low-cost finance options available. Get a quick quote and apply for finance at the same time.