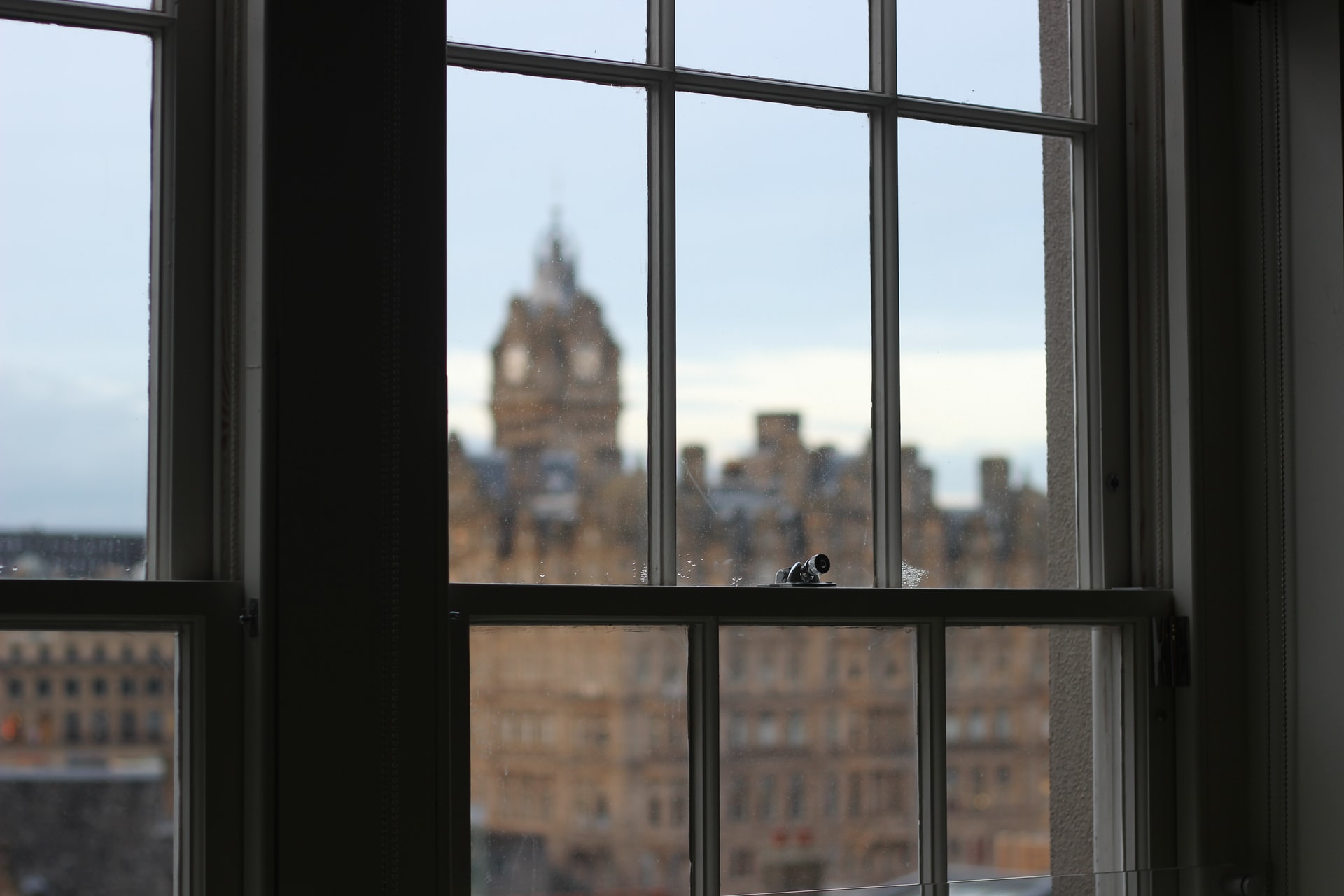 How to remove scratches from glass
Accidents happen. You scrape a window with a chair leg when moving furniture around. The lawnmower flicks a bit of gravel at your patio door. Or perhaps you drop something heavy on a glass table. But don't worry, if you find scratches on your windows or other glass surfaces, it might not be as bad as you think. 
Of course, prevention is better than cure. And learning the best ways to clean and maintain your window glass can save you from needing to fix the problem later. However, if issues do arise, here's some advice on how to remove scratches from glass — with everyday household items! 
How bad is the scratch?
Suddenly noticed a scratch on your window? Don't panic! Before you wonder if you might need to replace the whole pane, it's a good idea to assess how bad it really is. 
The first step here is to clean the glass so you can inspect the damage. Use glass cleaner and a soft cloth to gently buffer the area. As a general rule of thumb (nail!), if the scratch is deep enough to catch your fingernail, you'll likely need a professional to look at it. 
However, if the scratch is shallow, you can try the following methods to restore the glass to its former glory. 
As you'll see, toothpaste can be effective on light scratches but is also a good starting point for testing the level of damage. Always start with the gentlest level of abrasion and work your way up to more robust levels if needed. You don't want to jump ahead to a rough buffer and make the scratches worse.
We're confident that our windows, including our double glazed collections, are made to the highest standards and should stand the test of time. However, if anything should happen, and you don't feel comfortable removing glass scratches yourself, don't hesitate to get in touch. 
Toothpaste and a soft cloth
Who knew that toothpaste could come in handy for glass maintenance? As well as giving your window a minty fresh clean, the mild abrasion of toothpaste can remove minor scratches.
To try this method, apply a small amount of toothpaste to the scratched glass — whitening is best as it has a more abrasive texture. Using a clean, soft cloth, gently wipe the toothpaste in small circular motions for a few minutes. 
Rinse the glass to see if you've made progress. Have the scratches lightened a little? If so, you can repeat the process once or twice more. However, if the scratches are still present after three rounds of toothpaste, go on to liquid pumice.
Liquid pumice
Liquid pumice soap is an exfoliating hand cleaner that contains tiny particles of volcanic rock. It's a little more abrasive than toothpaste but works in the same way when it comes to removing scratches from glass. 
As with the toothpaste method, apply a small amount of liquid pumice onto the scratched glass and buffer gently with a clean, dry cloth. 
After a few minutes, rinse away the residue — any better?
Baking soda
If liquid pumice hasn't done the job, why not give baking soda a go? This household staple comes in handy for a variety of cleaning tasks, and removing scratches from glass is one of them.
Mix equal parts baking soda and water in a bowl until it's a fairly thick paste. You shouldn't need much, depending on the size of the scratch. Smooth the mixture over the scratch and rub it in circular motions, using a clean microfibre cloth.
Wipe away the paste with warm water and another clean cloth. As with toothpaste, you can try the process again a couple of times.
Buffers
Home remedies not sorting it? Another option is to get the power tools out! Be very careful if you go down this route. Only use a sander if you feel confident to do so. If not, it might be best to contact a professional.
For this method of scratch-removal, you'll need a commercial buffing compound — the kind used for polishing metal.  
You'll also need an orbital sander or buffer. Fit it with a soft cloth or buffing wheel and apply a bit of the compound to it. Polish the glass with the sander for a few minutes. It's vital to continuously add a couple of drops of water to keep the scratched area moist. If the compound dries out, it could damage the glass more.
Once polished, use a bit of washing up liquid and a soft brush to wash the scratched area. Dry it gently and see if the damage has reduced at all. You can repeat the steps until you're happy with the results. 
Clear nail polish
Got a bottle of clear nail polish lurking in a drawer somewhere? It could just be the perfect remedy for removing light glass scratches. Whilst the other methods we've spoken about involve buffing, nail polish takes a different approach. It's a slower process, but it can be very effective in removing scratches from mirrors. 
Clean the glass, then add a thin layer of nail polish (make sure it's transparent!) onto the scratch, so it fills it in. Leave the polish to set for an hour.
Using nail polish remover and a microfibre cloth, gently remove the nail polish from the glass. The scratch should disappear too. 
Get a professional
We hope we've given you a few ideas about how to remove scratches from glass and windows. 
There may, unfortunately, be times that the baking soda and toothpaste won't cut the mustard. If you've tried some DIY solutions to no avail, or if the scratch is deep, you might consider calling a professional to look at it. They can let you know the best course of action. 
At Otter Windows, we pride ourselves on the quality and durability of our products. That's why our windows come with a ten-year guarantee. If you have any problems, we'll be happy to assess your windows in line with Glass & Glazing Federation Guidelines and can offer repairs or replacements free of charge. Give us a call to discuss your options.
And if you're looking to replace or upgrade your windows, why not browse our brochure? Alternatively, you can always pop by our Honiton showroom — we'd love to help out